I've been super busy the last few weeks volunteering for the rodeo. What rodeo you ask? Well, I'll tell you. This rodeo: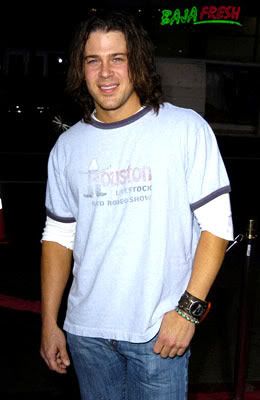 (Why yes, that is Christian Kane wearing a t-shirt for my hometown rodeo at the Friday Night Lights movie premiere. And yes, he also wore that same shirt in Her Minor Thing, which is an INCREDIBLY mediocre movie and yet he is SO adorable in it that I do not regret watching it AT ALL. Ahem.)

ANYWAY, the rodeo is like the social event of year around here, but I've never been involved with it before. My next-door neighbor is like this big deal on the ticket committee, though, and she talked me into volunteering. Basically you work a few shifts selling tickets and in exchange you get a Committeeman's Badge that gets you into the whole shebang, including the BBQ cook-off and the fairgrounds (where you can get deep fried pretty much anything) and the concerts and all the corral clubs, for free.

Unfortunately, I wasn't super psyched about any of the bands playing this year (although I did end up watching ZZ Top over the closed-circuit feed in the Stockman's Club). But it was still pretty fun. I got to meet a lot of new people and see some ropin' and ridin' and drink some milk punch (which is a traditional rodeo drink made with bourbon and half & half) and now my cowboy boots are well and truly worn in (and even have a little horseshit ground into the soles). And more importantly, I got outside of my comfort zone and did something totally new and kind of intimidating with a bunch of total strangers, and lived to tell about it. So yay me!

When I haven't been busy with rodeo season, I've been working on a lot of stuff for
leverageland that I'd put off. I've been doing a shit ton of graphics stuff over there which has actually been loads of fun. My graphics skills are woefully rusty and I've never really done much collage work, but I've been learning some new techniques and making some wallpapers and fic banners that I'll try to gather together and post here because I'm a little bit proud and want to show them off.

I'm all caught up on that now, though, and ... oh, hey, I've got a Veronica Mars fic that's still waiting for revisions! I should get on that.